A is for age: 49, let's not dwell on this.
B is for burger of choice: Since I can't eat wheat, it's been ages since I've had a commercial burger. So, I love a good elk burger without bun and lots of gluten-free ketch-up.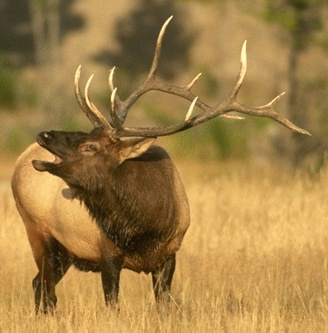 C is for the car I drive:
2002 White Suburban.
D is for your dog's name:
Bo the Cockapoo and Alli the Golden Retriever.
E is for essential item you use every day:
Keys. Now what would my family do if I didn't input them into the ignition everyday?
F is for favorite TV show at the moment:
I never catch shows when they first come out and are popular. I discover them years later when they are in reruns or you can buy season 39 on disc at WalMart....so right now I like
Everybody Likes Raymond
.
G is for favorite game:
Sequence.
H is for home state:
Montana
I is for instruments you play: Piano, but haven't practiced in decades.
J is for favorite juice: A love fruit juice of any kind.
K is for whose bum you'd like to kick:
Direct TV. These people just can't get their act together. We live out in the sticks on a mountain, so we don't get cable and antenna reception is seriously scribbly. Satellite is our only option and they will NOT give us the national networks like ABC, CBS, NBC, PBS or FOX because they might compete with the local channels. Some law was passed about competition. Hello, we DON'T get locals. So where is the competition for a family like ours that gets NOTHING, I'd like to ask? We do get Hallmark and AMC, so I'm alright for the time being, but don't ask me to tell you about current events. We don't get the news. So, who won the election anyway?
L is for last restaurant at which you ate:
Montana's Rib & Chop House. This place is a one of a kind, except for the one they have in Billings. Very cozy, terrific food, TVs for the sports enthusiasts and we always run into someone we know. It's a social event to go there.
M is for your favorite Muppet:
It's a toss up between Mew, the cat-toy and Rugby, an adventurous tiger, both in Jim Henson's
Secret Life of Toys
. This show was created in the '80s.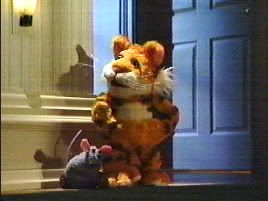 N is for number of piercings:
One in each ear lobe.
O is for overnight hospital stays:
I have been the patient in a hospital 11 times for the 11 babies I delivered. However, I have stayed in the hospital for months on end, if you add up all the nights I sat by a hospitalized child or recovering husband. I have lost count of how many surgeries and illnesses all my children have had... an appendectomy, rotovirus, double knee surgery, double achilles-lengthening surgery, 2 heart surgeries, pneumonia, asthma, anaphylactic shock from nuts, concussions, wisdom teeth extractions, countless stitches, a broken arm, a broken leg, unidentified-virus-causing-unconsciousness, and all the newborn babies with lengthy NICU stays, just to name a few.
P is for people you were with today:
Victor, the dogs (who think they are people, too), our children, the kids I taught when I substituted in the Tech Ed. class in the 8th grade, and all the parents of 7th grade choir members during their Christmas Concert tonight.
Q is for what you do with your quiet time:
I never have that unless it's midnight and the whole house is asleep. Then I like to quilt or blog.
R is for biggest regret:
Let's not go there.
S is for status:
Wikipedia says that status is a state, condition, a situtation. My State is Montana. My Condition is not pregnant. My Situation is blissfully, exstatically, peacefully married for 8 months!
T is for time you woke up today:
5:55 a.m.
U is for what you consider unique about yourself:
I am the best blogger out there. Ok, really, that I love children so much, especially my OWN perfectly, marvelous, wonderful children.
V is for vegetables you love:
Broccoli, carrots, peas, corn, asparagas, onions, GARLIC!
W is for worst habit:
I am habit free!! :-)
X is for x-rays you've had:
Teeth. Do ultrasounds count? I've had too many of those to count.
Y is for yummy food you ate today:
I got called in to Sub teach at the middle school. School cafeteria food is gaggy so I didn't eat. I came home after school and was ravenous and found the most yummy roast in the crock pot! My Sweetheart came home from work during his lunch hour and put in a pot roast with onions, carrots and mushrooms. It was delectable.
Z is for zodiac:
Virgo the Virgin. LOL!