My sweet parents sent Victor and I a late wedding present this week, which is really cool because it came when we had a lull in our mail. It's just nice to get letters and gifts when you aren't expecting them.
We were given a George Foreman Grill! I wasn't as impressed when I opened it as I am now that I have used it. This is a superb appliance.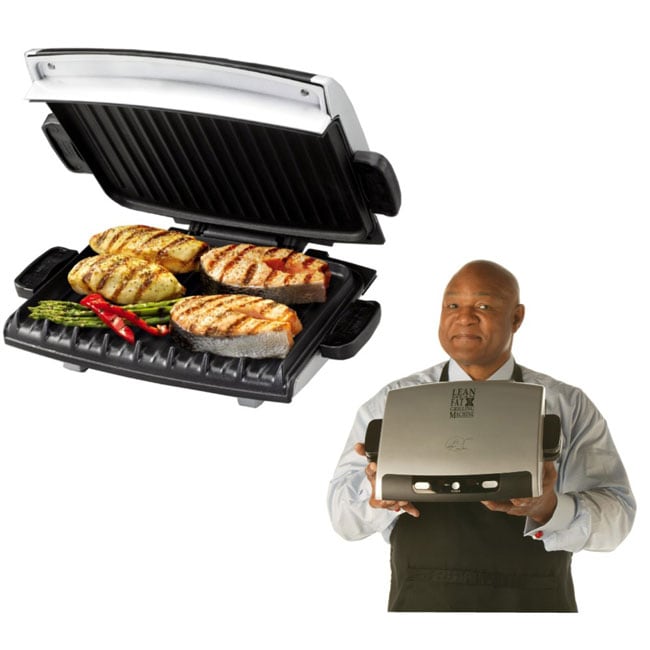 I am not one to stock my kitchen with little appliances, when a knife and cutting board will do. No Veg-all Chopits, no Ginsu salsa makers, no electric can openers when the manual one with a crank does just as well. It's about saving space and getting your exercise, as well.
No Radio Toaster....
Anyway, the Foreman Grill is brilliant. The last time Victor tried to barbecue outside on his propane grill the wind kept blowing out the flame so clearly grilling outside is not a wintertime sport.
The Foreman Grill is extremely fast, 2-3 minutes for 5 hamburgers, because it cooks both the top and the bottom at the same time. No flipping burgers. Also, the grill is on a slant so the food isn't swimming in grease. The grease all drips out into a little tray that washes up pretty slick. There is no grease splatter and the grill just wipes cleans with a paper towel. I am very amazed. Grill cheese sandwiches in 2 minutes.
I wonder if it "does" chocolate?